Wanhao Duplicator 6
---
| | |
| --- | --- |
| | REVISON GUIDE |
| | USER MANUAL |
---
Rapid prototyping for the next generation of commercial 3D printers... The all-new Duplicator 6 was designed to be the perfect companion to your desktop computing setup; sleek, quick, and sophisticated. Beyond the good looks are market-leading features including incredible 3D printing speed, open-source software compatibility, and industrial grade extruder components. The Duplicator 6 is the latest design from the award-winning team that brought you the #1 best-selling 3D printer last year!

Big power with a small footprint... With a frame footprint of just 1.4 square feet the D6 was designed to blend in with the rest of your desktop computer hardware. However, do not let it's size fool you...this mid-level printer packs a ferocious bite! The .4 mm brass nozzle allows for ultra-high layer resolution printing which tested slightly better than 100 microns. The Double-Track Gantry (DTG ™) system guarantees less rocking during X & Y axis movement allowing faster printing with less errors. Also, debuting on the D6 is the all-new MK11 hotend boasting machine-milled components built in-house to control quality and precision. The MK11 hotend is all-metal with the exception of the industrial-grade PTFE insert and allows temps up to 260°C.
Precision .4 mm brass nozzle allows fine printing in miniature
BoHong stepper motors power print speeds up to 160 millimeters per second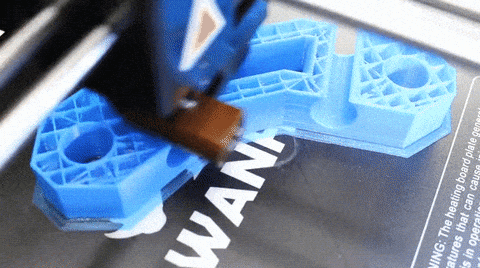 Double-Track Gantry (DTG ™) system for "rocking-proof" axis transitions
Premium software aids in printing models with difficult curvature
Software Freedom... 5 years of feedback has proven that users want the freedom to chose their 3D printing software based on the CAD programs they use every day. The obvious choice was to allow the D6 to accept open-source software in order to streamline the workflow of pro and novice users alike. Use the pre-loaded CURA Wanhao Edition or pick from the dozens of free and commercially available software packages online. Enjoy the freedom to use the most widely used file types from the best software packages on the market:
OBJ: Microsoft Visual Studio and CADRazor
STL: Thingiverse and Google Sketchup
DAE: Blender, FreeCAD, and Autodesk
AMF: Solidworks
This model is recommended for Architects, Office Warriors, & Intermediate-level modelers.
Printer Specifications:
Included Printing Material: 1 KG of PLA Filament

Extruder: NEW! MK11 Single-Extruder

Filament Size: 1.75mm Dedicated

Layer Resolution Capability: 0.1mm (HD 100 microns)

Top Extruder Speed: 160mm/s
Top Hotend Temperature: 260°C (Short-term), 240°C (Long-term)

Build Envelope: 200mm x 200mm x 180mm (~8in. x 8in. x 7in.)

Build Surface: Heated Bed Plate and Wanhao Adhesive Sheet

Filament Capabilities: PLA, ABS, PVA, Stainless Steel, NinjaFlex, Nylon, HIPS, Woodfill, LayBrick, CopperFILL, BronzeFILL, MOLDLAY, Conductive, Carbon Fiber, Polyurethane plus more!

Compatible Software: Open-source (CURA Wanhao Edition included)

File Type: Gcode
Firmware: Includes FREE downloads of the latest firmware.
Acrylic Enclosure: Includes Acrylic Enclosure upgrade
File Transfer: microSD Card & USB

Frame Color: Powder-coated Black (3mm Heavy Aluminum)

Warranty: 1 Year FREE parts replacements


Ask question about this product