Wanhao Duplicator 7 DLP SLA 3D Printer DUP (Direct UV Printing) Version 1.5
This is the most updated version of D7 supplied with

'

Anti-Wobble Kit'.
1.5 upgrade kit

is available here

---
The Wanhao Duplicator 7 DLP is a resin desktop 3D printer made by Wanhao.Duplicator 7 has a build area of 120x70x200mm and a layer resolution capability of 35 microns
The Wanhao Duplicator 7 DLP uses the vat photopolymerisation 3D printing technology. DLP stands for Digital Light Processing. For 3D printing the Wanhao Duplicator 7 DLP selectively cures liquid resin layer after layer in order to build an object. It uses the 395-405 nm wavelength and is compatible with most of the resin materials available on the market.
The Wanhao Duplicator 7 DLP is equipped with a HD LCD screen which offers a 2560 x 1440 pixels resolution. The input is HDMI type. This 3D printer offers a build speed of 15mm-35 mm/Hour.
The Wanhao Duplicator 7 DLP uses the Creation Workshop software to slice and control the printing process.
Add D7 Box for tetherless operation:
---
The Wanhao D7 Box allows your Duplicator 7 to print without the need of a computer. This box has an HDMI output along with a USB port for use with a flash drive. It includes Wifi NanoDLP support. Now you no long need to have a dedicated computer to print with the Duplicator 7!
---


Shipping Details
---
Processing/Handling(Lead) Time
Ships in 3 to 4 Business days- Period to test the kit & packing before it ships out
Delivery Time to Door step
4 to 5 days via UPS





Superior Build and Output:


The latest Duplicator 7 V1.4 is made of industrial strength sheet metal and high quality CNC'd billet metal components. It has a build area of 120mm x 68mm x 200mm allowing you to build larger models or multiple prints faster! The quality of the prints produced by the newest v1.4 version is close to flawless. The D7 has a resolution capability of up to .025mm (HD 25 µm) and works with a variety of off-the-shelf resins. Whether you are printing dental guides, tabletop figurines, or complicated jewelry, the Duplicator 7 has the precision and reliability for the job
This model is recommended for Dental Labs, Tabletop Gamers, & Jewelers.!!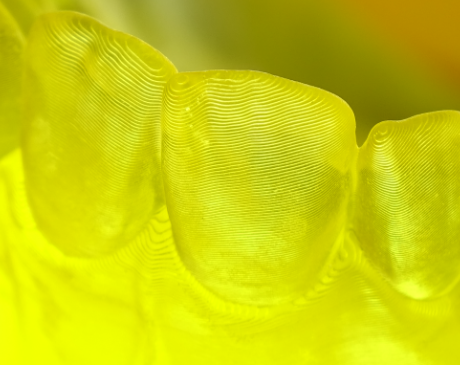 Version 1.4 Information:
---
UV LED wires are soldered to the LED body instead of tabs.
Tabs cut off UV Led to keep from shorting.
Power button moved to the back of the printer with the other cable connectors.
Changed Delrin Z Nut (plastic) to a brass anti-backlash nut for more precise movement.
UV Cooling fan (60mm) and heat sink size increased for better cooling.
New molded reflector has more reflection and less scratches.
New Internal 70W Power Supply (no more external power supply)
Z coupler has been changed to a better Clamping style instead of using setscrews to secure the rod (for better concentricity)
Even more vents have been added to the back of the printer for better airflow.
Build plate is now machined for +-0.03mm tolerance to ensure flatness.
A secondary 60mm cooling fan was added to the side to ensure the motherboard is cooled and the case is ventilated.
Detailed info on the version 1.4 Changes- 3D Printer Wiki
Version 1.5 Info:
---


Specifications:
| | |
| --- | --- |
| Printing Technology | UV Resin DLP 3D Printer |
| Max Printing speed | 30mm/hour |
| Max Printable Area | 120*68*200mm(L*W*H) |
| Resin Type | 405nm UV Resin |
| Software | Creation Workshop |
| Resolution | 2560*1440 |
| Accuracy | Z: 0.004MM |
| Layer Thickness | 0.035~0.5mm |
| Weight | 12 Kg |
| Earliest Shipping Date | Lead Time(Handling Period) - 1 Week |
Documentation
---
Wanhao Duplicator 7 Knowledge Repository-3D PrinterWiki Info
Wanhao D7 Full Guides(Manual,Revs,Software ,Firmware,Test Files)-3D Printer Wiki info
Buyer Protection Policies
---
Safe Payment
PayPal-the most reliable payment method.Credit/Debit cards processed by PayPal
UPS Insured Shipment
High Quality Express Transport without damage.
1 Year Warranty
Just in case. Of course we only ship out perfect products.
Technical Support Service
Experiencing trouble? Feel free to contact us!
---
What's in the Box:
D7 Printer
Spare Fep Tape sheet for Screen
Jar for cleaning finished prints
Scraper
2 x Latex gloves
Power cable
Hex Driver
250ml Sample amount of White UV Resin [If Order upgraded to 1 liter of Resin , It will be shipped separately due to its liquid nature,it's delivery little slower than average time since it requires special inspection procedure]
Pick your favorite Wanhao Resin Upgrades
WANHAO 3D PRINTING BLACK RESIN
Black A worldwide classic, this resin It's a particularly luxurious shade, think rich Swissmilk chocolate or decadent café au lait.Or something painted brown.
WANHAO 3D PRINTING CLEAR RESIN

Is our classic WANHAO Natural color.It's unpigmented resin, and is a clear color with light yellow.It's the go to resin color for thousands of 3D printers worldwide. Can't risk getting caught outt here with a missed color choice? Go clear!
WANHAO 3D PRINTING GREY RESIN

Bright Grey is one of fresh new color for 2017 it is bright than normal Grey
WANHAO 3D PRINTING GREEN RESIN

This bright neon green wanhao Resin is custom suggested to us and ranks as our all time brightest color. Bright neon green, and even brighter and more popping under a UV or black light. Looks cool under blue LED stripes as well!
WANHAO 3D PRINTING ORANGE RESIN

This is a new classic, one of the most blazon colors in the world. Safety orange! It's a bright traffic cone, safety vest orange and catches the eye any way you look at it.
WANHAO 3D PRINTING RED RESIN

Transparent RED resin is an extremely awesome polymer for many reasons
WANHAO 3D PRINTING WHITE RESIN

white, like the driven snow. The possibilities are truly endless.This is a noticeably brighter shade than the Resin clear. With this new level of extreme brightness, you'll feel like you've been given a new lease on life. you'll have to wear shades.
WANHAO 3D PRINTING YELLOW RESIN

This resin was custom suggested to our specifications and is a beautiful Yellow color. You know the yellow color of a banana? It's very close to that color!
---
Wanhao Duplicator 7 UV Resin DLP 3D Printer V1.5



Credit Cards processed by PayPal
Order Fulfillment by :

WANHAO

Product Code:

WANHAO-BAY-0155

Availability:

In Stock
Related Products
Tags: DLP Resin 3D Printer, SLA 3D Printer, Wanhao, Duplicator D7, Wanhao D7, Wanhao Duplicator 7