CreatBot F430 Direct Drive Dual Extruder 3D Printer
Special promotions 5% OFF on this product. Limited time only. Use Promo code CRBAY5


CreatBot F430 3D Printer Support 420°C Hotend
We are the first one to publish 420°C high temperature nozzle to 3d printer market since year of 2016, now it is the 4th new tech version. F430 equiped with dual extruders, The left 260°C hotend is able to print with PLA, ABS, PC, Nylon, Carbon fiber, Flexible, etc. The right 420°C hotend is made of martensite steel, which is able to print High performance material like PEEK, ULTEM, etc. The dual hotend is replaceable, which provide more possibility on your application. The nozzles' height can also be micro adjusted and the printer has a build volume of 400mm x 300mm x 300mm.. This also comes with extra 260 deg Extruders 2-nos will be quite essential if you need to print materials which require less temperature.


High Precision & High Speed
The extruder feeding system supports high-speed printing. The high-speed will not affect the filament and it will extrude steadily without blocking. The printing is also highly accurate with a 0.04mm print resolution.


Stability
The printer's steel body not only ensures its stability when printing but also extends its usage period greatly. The first batch of CreatBot 3D printers has been working for 5 years and over 8000 hours.


Fully enclosed high temperature chamber
The fully enclosed chamber can block all external interference and reduce noise. The hot chamber can remain at room temperature so that the model won't deform while printing.


Power outage restored & Filament detection
The printer will automatically memorize the current position and save print data if there is a power outage. It will continue to print from where it stopped once the power comes back on. The printer will avoid invalid printing by stopping the printing process when the filament runs out.


Touchscreen
The printer has an English menu touchscreen which is easy to operate. There is one key to warm the printer up, one key to print and many other shortcut keys.


130°C Hotbed
The hotbed is made of heatable aluminium PCB, which can heat up to 130°C. The platform is attached using 3D printing stickers called buildtak. Printed objects can be stuck on the buildtak tightly and won't become deformed.


Removable panel
The hotbed is attached to the printer with a carbon fibre panel, which allows heat to transfer fast. The carbon fibre panel is removable and you can bend the panel with both hands and get your 3D object out easily.


Air filter system
The air filter system can absorb impurities and gases that are generated by printing special filament. This gives the environment that the printer is located protection which means it is suitable for use in the home, school or office space.


Automatic leveling platform
25 points proble to achieve Automatic Leveling


Technical specifications
---


Printing
Print technology
Fused Deposition Modeling
Build volume
400mm x 300mm x 300mm (F430)
Number of nozzles
Double
Resolution
0.04mm
Layer resolution
0.02mm
Filament diameter
1.75mm
Filament compatibility
PLA, ABS, Carbon Fiber, Wood, Nylon, PC, PTEG, HIPS, PP, Flexible, TPU, PVA, PEEK, etc.
Nozzle diameter
0.4mm (0.3mm, 0.5mm, 0.6mm, 0.8mm, 1.0mm)
Print file type
GCO, GCODE
Temperature
Operating temperature
15°C - 32°C
Max. nozzle temperature
420°C
Max. bed temperature
130°C
Max. cabinet temperature
70°C
Speed
Best printing speed
55mm/s
Max. printing speed
180mm/s
Max. traveling speed
200mm/s
Mechanical
Construction
Power-coated steel, aluminium casting for motion components, POM
Build plate
Heatable aluminium PCB with buildtak
Build plate levelling
Automatic
Extruder
Direct drive
Stepper motors
1.8° step angle with 1/16 micro-stepping
X Y positioning precision
12.7 microns
Z positioning precision
1.25 microns
Electrical
Power requirements
100-240V, 50-60Hz
Max. power
300W
Screen
4.3" touchscreen
Control chip
ATmega 2560
Storage media
USB disk
Connectivity
USB
Software
Software bundle
CreatWare multi-language
Supported file types
STL, OBJ, AMF
Operating systems
Windows (7,8,10), Mac OS X
Special functions
Outage restored
Sava data when power is off
Filament detection
Pause printing when filament run out
Automatic shut-down
Turn off the power automatically when printing is complete
Size and weight
Product dimensions and weight
660mm x 470mm x 580mm, 43kg
Packing size and weight
760mm x 620mm x 680m, 58kg


Buyer Protection Policies
---
100% Secure Payment
PayPal-the most reliable payment method. Also accepts card payments(PCI DSS Compliant)
DHL,UPS Insured Shipment
High Quality Express Transport without damage.
1 Year Warranty
Just in case. Of course we only ship out perfect products.
Technical Support Service
Experiencing trouble? Feel free to contact us!


Shipping Details
---
Processing (Lead) Time
Ships in 3 to 6 Business days. Proper Testing & Packaging prior to shipment(100% Quality Control)
Delivery Time to Doorstep (Transit)
4 to 5 days via FedEx/UPS/DHL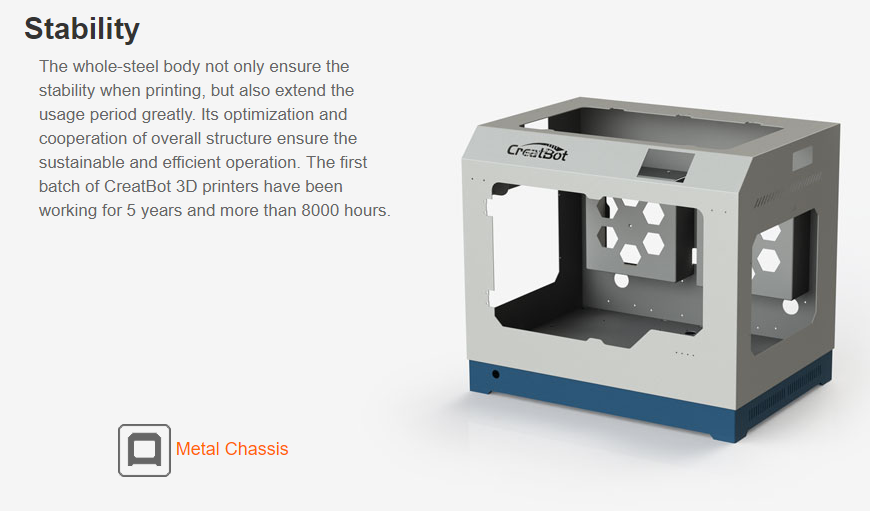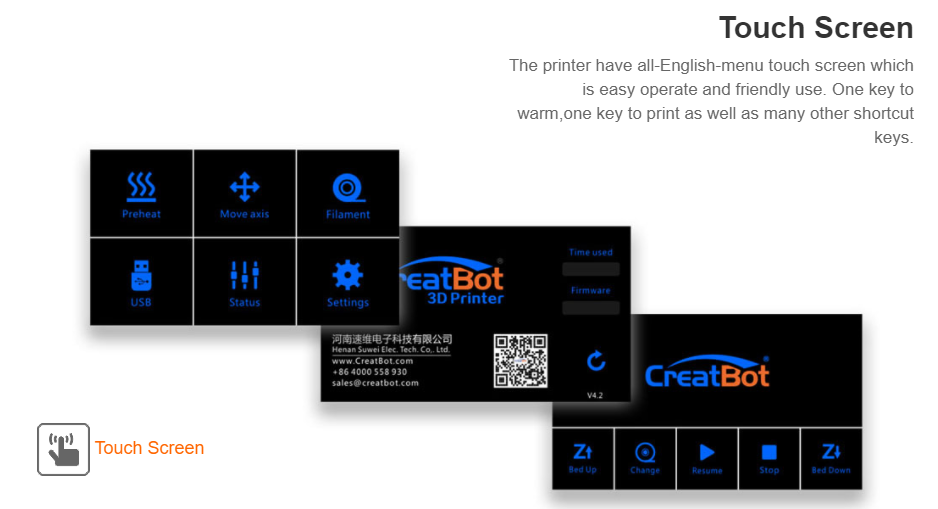 Ask question about this product